Starland Matador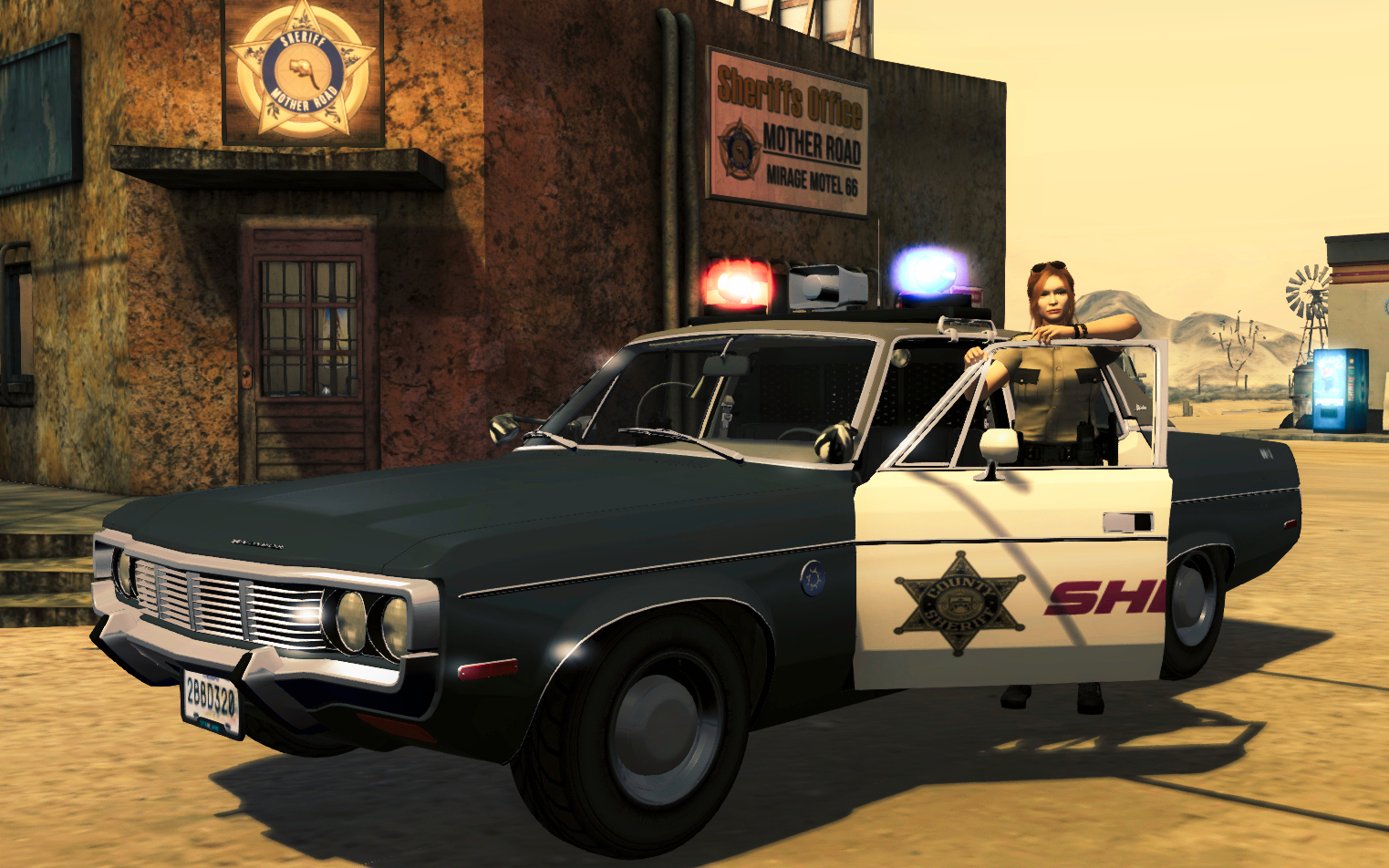 Execllence in emergency services suport
Vintage police and fire vehicle with all the features you expect from Starland. The perfect go to choice for your retro-themed regions.
The Matador package includes a marked emergency services edition and an unmarked edition intended for public use.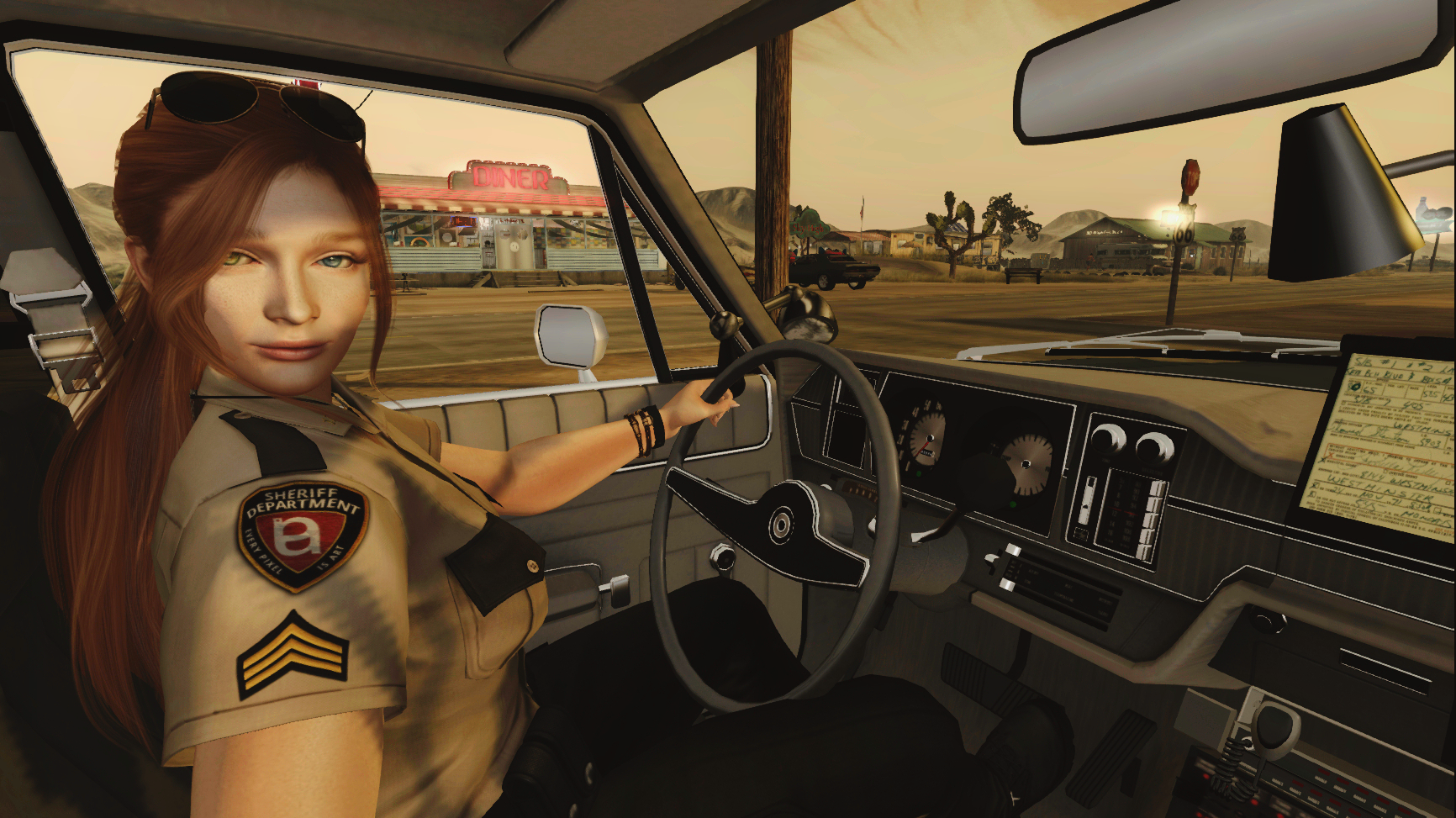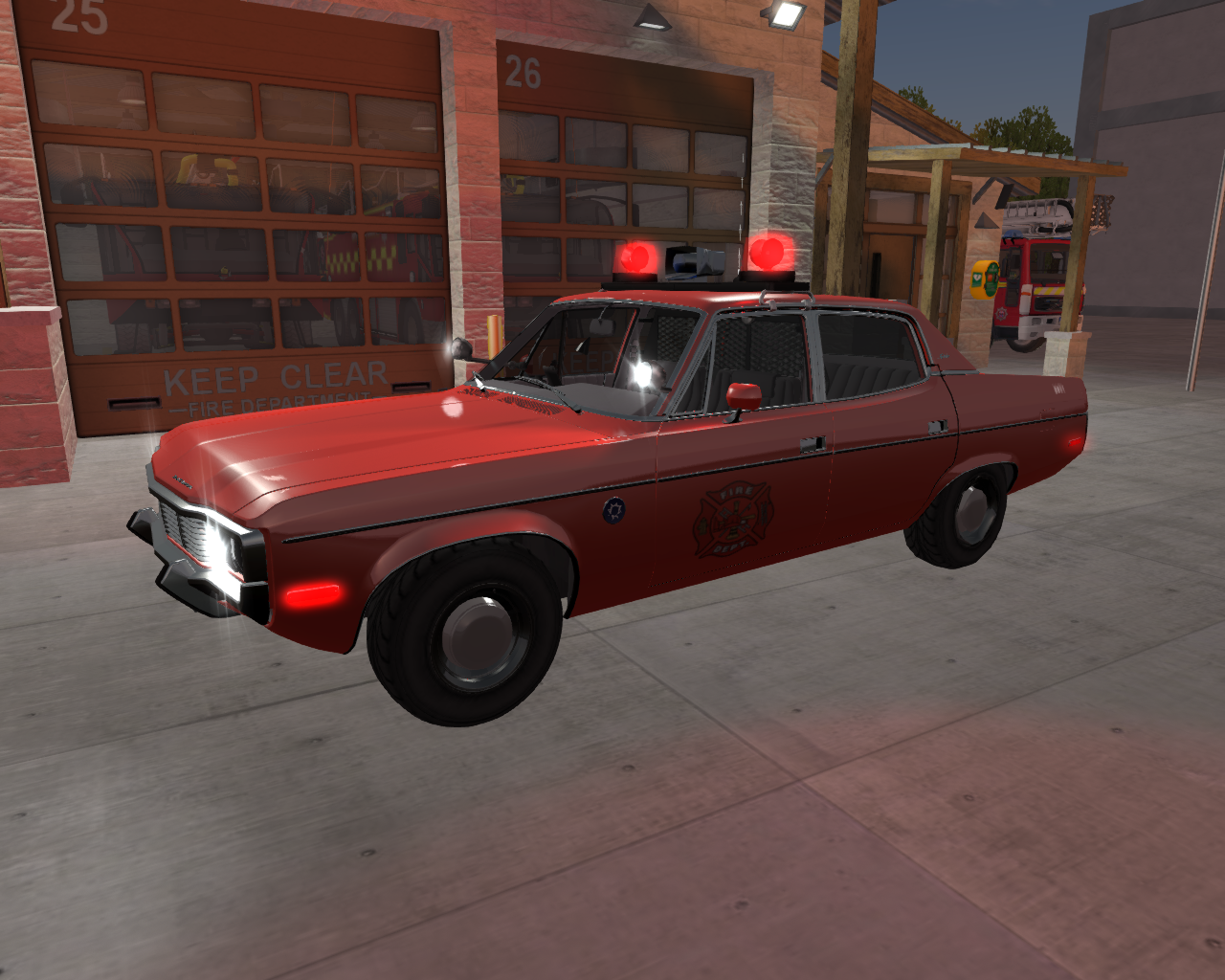 Four people total (driver + 3 passengers).
Manual with 7 forward gears. Automatic transmission optional.
Four people total (driver + 3 passengers).
Standard forward cruise control activated by gesture or HUD click.
Full movement front and rear windows plus sunroof.
Fully operational front and rear doors.
Includes our Generation 2 painter HUD which allows painting of different part groups. Body, Trim and multiple part of the interior can be painted different tones. Advanced users have the ability to change the groupings by adjusting the "Paintable Parts" notecard.
Front and rear North America style license plates. Backgrounds for each of the six genera/moderate SL continents plus an "SL Exempt" plate for government vehicles. Random plate number generated automatically on first rez. Custom number may be chosen from car menu.
Compatible wit GFS fuel system. All capacities can be adjusted in the configuration script. Fuel system is on by default.
GTFO Enabled.
Can be made physical while stopped to facilitate pushing or towing.
Guest use mode available.
Steering preferences can be customized to drivers preferences.
Speedometer and Odometer. Functioning fuel gauge and tachometer. Miles and fuel level are maintained within the car. Compatible with NTBS fuel. NOTE: due to design limitations of the mesh, KPH display is not available on the Matador speedometer. The HUD will still show kilometers if KPH is selected.
Emergency lights with selectable colors for each globe (red, blue, yellow, green, white).
Siren with wail and yelp options.
Shotgun (non-working/decoration only) mounted in rack (hideable.
Decorative writing tablet and lamp (hideable).
Police cage between front and back seat (hideable).
Unit number controlled by owner in the configuration script.
Touchy Stuff On Dashboard
Mouselook drivers will be able to access some important functions on the dash while driving in mouselook.
Face of mirror opens car menu.
Starland Decal on steering wheel sounds horn
Button panel on center console includes engine ignition, headlights, high/low beam, interior light, left/right turn signal, emergency flashers and mode selector (4LO, 4HI, 2WD). 2WD is the startup mode for the Matador.
Special Features
Emergency Lights and siren
Light bar consists of two rotators with independent color selection. The siren menu is accessible by clicking on the siren speaker located on the center of the lightbar. The menu allows for selection of color for each of the rotors, as well as control of light and siren functions.
When using the Starland Driver HUD, six special buttons will be added to control the emergency services functions. Emergency light buttons will be blue for off and green for on.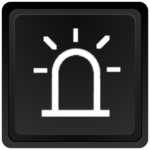 Toggles lights on and off.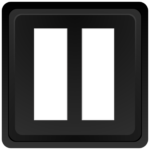 Turns lights and siren off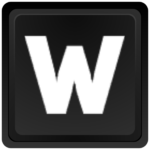 Selects wail siren. Does not turn on or off. Green when selected. Default.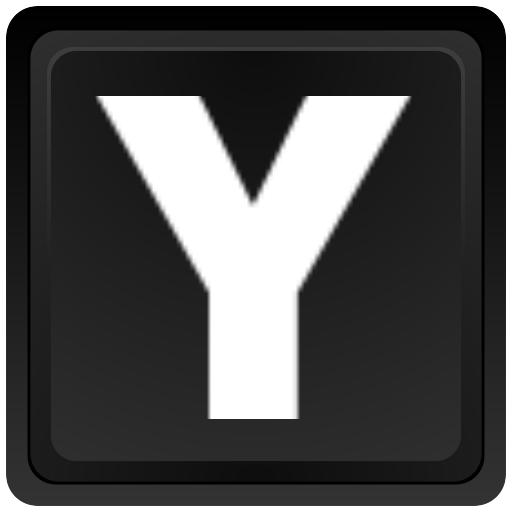 Selects yelp siren. Does not turn on or off. Green when selected.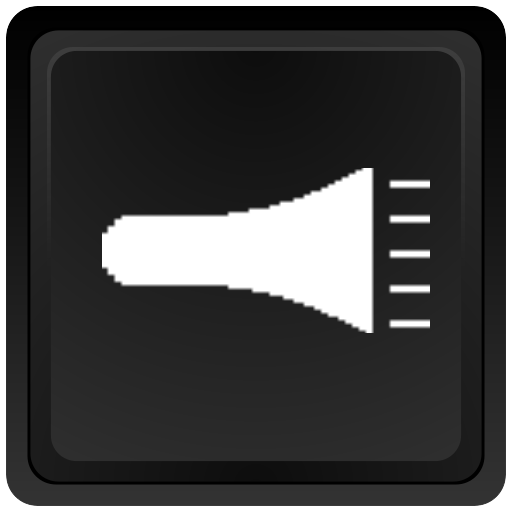 Yelp siren will burst shortly. If main siren is on, it will delay shortly to allow yelp to play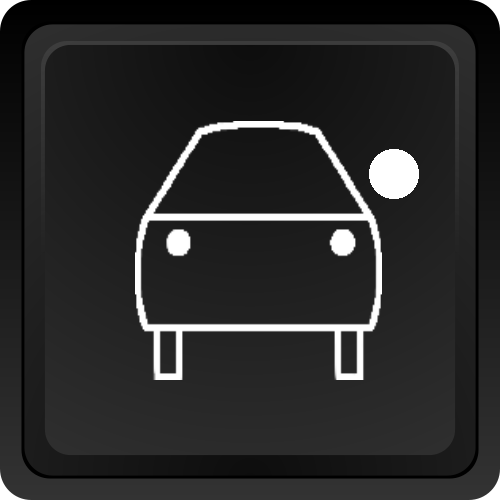 Toggle right spotlight on or off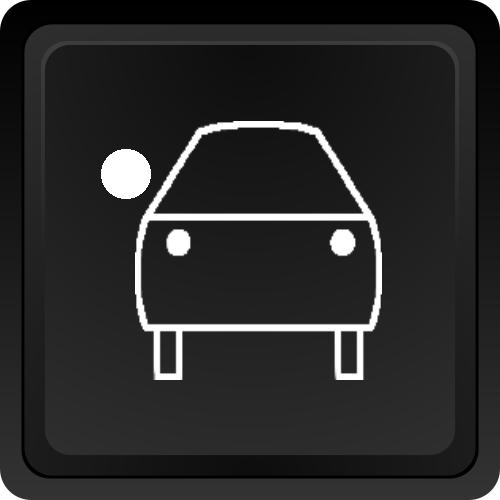 Toggle left spotlight on or off
Set color of left rotor. Options: Green, White, Red, Blue, Yellow.
Set color of right rotor. Options: Green, White, Red, Blue, Yellow.
HIDEABLE PARTS
Several parts on the Matador Emergency Services model can be hidden from the Addons menu. To access this menu, open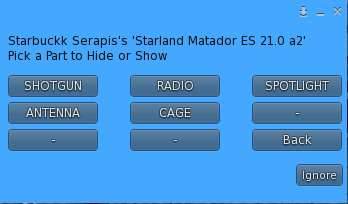 the car menu and select Addons – Parts.
Each button toggles the indicated part off or on. They remain attached but will not be visible.
Painting Your Matador
The Matador comes with both the Starland Painter HUD and the Starland Themer HUD. The themer includes three sample paint themes and a blank theme to clear the themed paints from the car to allow tint painting. More detailed instructions for the paint HUDS can be found at Painting and Theming on this site.
PSPImage and PSD files for the sample themes are downloadable from the button below. PSPIMAGE is recommended if you have access to Corel PaintShop Pro. The PSD file is an exported file from PSP.